My latest piece in Independent Australia over the fold
OPPOSITION LEADER Peter Dutton's call for nuclear power, made as part of his Budget reply speech, should not be taken too seriously. In its nine years in office, the L-NP took no steps to promote nuclear energy, not even an attempt to repeal the largely symbolic ban imposed by John Howard in 1998. Dutton's renewed call can best be understood as a dog whistle to the climate denialists who dominate the party's base, allowing him to oppose practical measures for decarbonisation without explicitly embracing denialism.
Still, it's worthwhile to be informed about the current state of nuclear power and the prospects for deploying it in Australia. If nuclear power really was the cheap and reliable option claimed by its proponents, the immediate benefits of replacing coal and preventing imminent climate disaster would outweigh long-term concerns about adding to the (already large) stock of nuclear waste that will require indefinite storage.
In reality, however, nuclear power is set for continued decline globally. In a country like Australia, with no existing regulatory structure or skills base, nuclear power is hopelessly uneconomic and will never happen.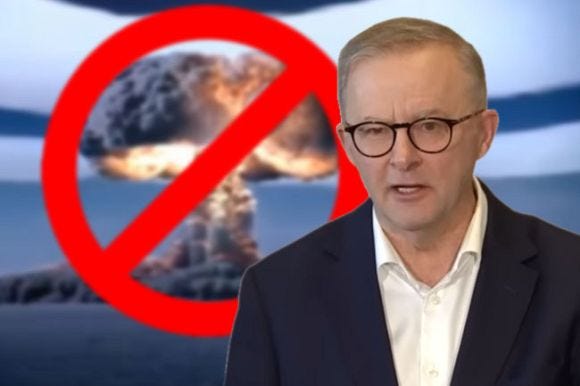 The election of Anthony Albanese as Prime Minister heralds a new era in Australia's approach to nuclear disarmament.
Twenty years ago, it seemed likely that nuclear would be a viable option to replace coal. The development of new "Generation III" designs seemed to overcome many of the safety problems of 20th-Century reactors like those at Three Mile Island and Chernobyl. And while solar PV and wind technologies were improving, they were still massively more expensive than new coal and gas.
As a result, there was hope for a "nuclear renaissance", embodied in the U.S. Energy Policy Act of 2005, which offered the nuclear power industry a range of financial incentives and economic subsidies. Dozens of proposed nuclear plants were a bust.
But the nuclear boom turned out to be a dud. Only two projects, each involving two AP1000 reactors, started construction. One was abandoned after the expenditure of billions of dollars. The other, the Vogtle plant in Georgia, is now almost complete, years overdue and billions over budget. The fiasco sent Westinghouse, which designed the AP1000, into bankruptcy and almost took down its parent company, Toshiba, in the process.
Elsewhere in the world, a trickle of new projects has continued, with about 60 plants under construction. Outside China, most of these are being built by the Russian company Rosatom. If, as seems likely sooner or later, Rosatom is sanctioned for its role in the invasion of Ukraine, these plants will never be completed.
The delay in sanctioning Rosatom reflects its close ties with U.S. and European nuclear enterprises such as Framatome, which are proving difficult to unwind. But the dependence goes both ways. Once separated from its U.S. and European partners, Rosatom will find it impossible to deliver its promised plants.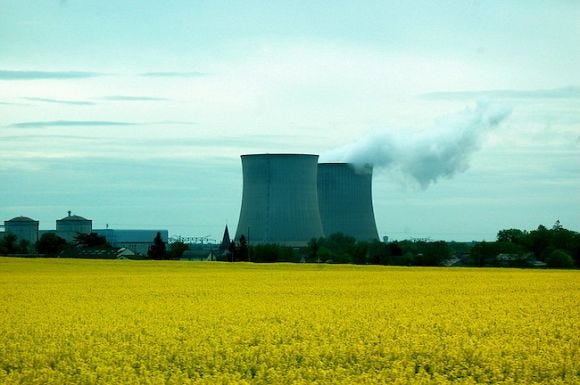 Noel Wauchope tests the 'nuclear' facts in an interview between former CEO of Australia's Nuclear Science and Technology Organisation, Dr Adi Paterson, and Sky News host Chris Kenny.
It's now widely recognised that traditional large reactors like the AP1000 have no real future. Attention has turned instead to "small modular reactors" (SMRs), and these were Dutton's central focus. The idea is to avoid cost blowouts by building small reactors in factories and then shipping them to the sites where they are to be installed.
This idea is so appealing that lots of designs have adopted the label even though many are neither small nor modular (that is, factory produced). Even Westinghouse has re-entered the fray, with a 300-megawatt (MW) version of the AP1000.
The only SMR design advanced enough to be licensed in the U.S. is the VOYGR developed by NuScale, which is marketed as being available in sets of four, six or 12 units, each with a capacity of 77MW. NuScale has an agreement (not yet final) to build six VOYGR units for the Utah Associated Municipal Power Systems (UAMPS), with a current estimated completion date of 2030.
But just as fusion power is said to be "always 20 years away", SMR projects have shown plenty of slippage. Perhaps because of their smaller scale, SMRs always seem to be 7-10 years away. Back in 2014, NuScale received government funding based on a promised operating date of 2023 — nine years later. But now it's 2023 and fabrication of parts for the reactors has barely started.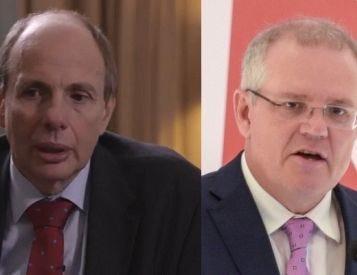 The recently appointed Chair of the Climate Change Authority, Origin Energy boss Grant King, has yet again raised the idea that nuclear energy is an important policy option for Australia.
In the meantime, as usual with nuclear power, costs have escalated. As recently as mid-2021, the target price for power was estimated at US$58 (AU$87.24) per megawatt-hour (MWh); it's risen to US$89 (AU$133.84)/MWh, a 53 per cent increase. And even this price depends on large government subsidies. By contrast, the levelised price of utility-scale solar PV systems, with battery storage, is currently between US$30 (AU$45.12) and US$40 (AU$60.19)/MWh.
At these prices, SMRs will, at best, be confined to niche applications such as aluminium or steel mills, operating with constant, 'round-the-clock electricity demand.
A look at construction plans confirms this. The NuScale project would supply less than 500MW of power, half the capacity of a single conventional coal or nuclear plant. Even assuming all the projects that have been mooted recently go ahead, the total capacity of SMRs will be less than 5 Gigawatts (GW). The world is currently installing that much solar PV every week.
Even if SMRs prove to be cost-competitive in some limited niches, they do not represent a serious option for Australia. The cost of setting up an entire regulatory and technical infrastructure for, at most, a handful of small plants some decades away is simply not worth considering.